Three roosters and ten hens – they need new digs and fast! They are on the lam, ready to start a new life so
mewhere safe. Right now, they are "on probation" at Animal Place (www.animalplace.org) but are looking for that home where they can live a long, peaceful life.
Can YOU give these "unusual cluckspects" a new home?
Available as a group or individually, these birds will provide hours of entertainment, show of their superb weeding and gardening skills, and make wonderful companions to the chicken-loving family. Two of the roosters (Oz and Rufus) get along (if there are enough girls to distract them) but cannot go into homes with other roosters. The third rooster, Calvin, would prefer to be an only rooster.
Of course, what's more important than getting to know your future feathered friends? Their rap sheets may be a mile long, but they have some skills and personalities any bird-brain would appreciate. Bird brain is a good thing, too.
Information on adoptions is below – won't you help a rooster brother and hen sister out?
Oz

Charged with: Being a highly effective organic gardening machine.
Needs: A new home (preferably with his girlfriends…), may consider allowing accomplice to tag along (though he did botch that infamous yellowjacket sting operation)
Personal statement: Yo! I'm Oz and if you have bugs that need catching, I'm your man. I I'll also help you out in the weed-eating department.
Rufus

Charged with: Being an accomplice to Oz.
Needs: A place to relax, sun bathe and a nice spot to munch on grapes and lettuce.
Personal statement: Hey everyone, I'm Rufus and if I could go to school, I'd be too cool for it! I love grapes and lettuce. A lot. I even share with my girl friends, even though I could eat about five million grapes a day. Sometimes Oz steals my grapes but that's cool, I share.
Calvin

Charged with: Strutting around without a care in the world.
Needs: A place to strut, preferably with a nice garden patch to relax and sunbathe.
Personal statement: I'm quite the ladies man, if I do say so myself; and I do. My ideal life would be spending time with a few friendly hens and being able to walk around looking handsome. I don't think that's asking much – do you?
THE GIRLS
Bella, Mabel, Alice, Violet, Sandy, Felicity, Delia, Esther, Scarlet, and Penelope combined have a rap sheet the length of a small football field. And they're proud of it! All have been charged with liking cantaloupe a little too much, stealing corn from each other, and sometimes hogging the perches.

Personal Statements
Bella

I'm not sure what all the fuss is about. Most of my days are spent preening, making myself look good and spending some quality time with Oz (and Rufus, but that's a secret!) So what if I "bumped" Sandy off the perch? She wasn't really using it.



Sandy, Esther & Mabel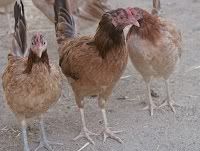 Esther
: I love cantaloupe. If it was considered okay, I'd marry one. Or at least share my nest with one. Or two, even. I'd really love a place where cantaloupes were given to me 24/7, maybe even more than that (48/12? I'm not so good with time).
If you can open up your barn doors (or backyard gate) to these birds, please contact us at Marji@animalplace.org or 707 449 4814. We do ask you to fill out an adoption questionnaire, which we will gladly email to you. If you are zoned for roosters, please help out Oz, Rufus, and Calvin they are wonderful boys who are looking for the right spot to rest their wings. Not in northern California? We are considering out of the area adoptions, so please don't let distance deter you.
If you cannot adopt, please spread the word about these wonderful birds.