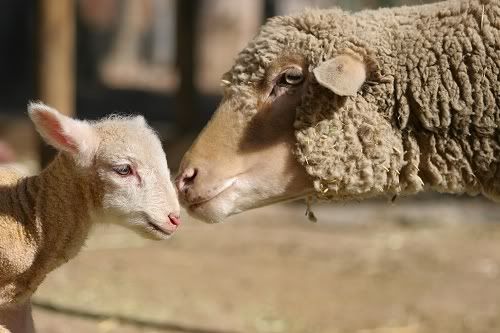 Rescued from a slaughterhouse four months ago, skinny and malnourished, we never thought Virginia was pregnant. Imagine our surprise when she gave birth to a beautiful baby boy!
Virginia is a stellar mom. She responds immediately when little boy calls for her. Checking in every few minu
tes, she gives him gentle baths and makes sure he stays clean. It's funny to watch him look up to his mom, almost as if saying "What next, mom?" Think good thoughts for little boy and his mom - as an older sheep, Virginia isn't in the best of health. She has problems with her lung from previously untreated infections and her liver is failing. Through all of this, she has shown a remarkable will to live and a strong drive to take care of her baby. We'll do our best to keep her comfortable and happy, while also helping her take care of little boy.
Animal Place will continue to provide safe haven and stellar care for any and all animals who enter our barn doors. While we help them, the animals help us to keep hope alive for farmed animals everywhere. You can help by choosing a plant-based diet, by choosing cotton over wool, by being an integral part of the solution.