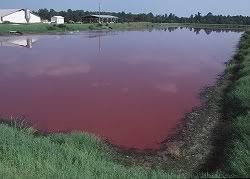 A judge out of Missouri
has ruled that industrial hog farms cannot build their large facilities within 15 miles of historic Arrow Rock. The village is nestled on a 300-acre state park that receives more than 100,000 visitors every year. Department of Natural Resources issued a permit to a hog farmer who wanted to build a 4,800 farm 2-miles from the village and park.
According to the
National Water Quality Inventory
, 38% of assessed rivers and streams and 30% of assessed lakes, ponds and reservoirs are considered impaired because of agricultural activity. This number could likely be higher, especially since a high percentage of impairment could not be correctly identified. Knowing that nearly 40% of our rivers & streams and 30% of our lakes, ponds and reservoirs are polluted because of agricultural operations, why add to the problem with more factory farms? The above 4,800 pig operation would have generated 2 million gallons of manure annually.
Hopefully, this ruling creates a precedence for other communities trying to stop factory farms. Factory farms ruin rural communities, degrade and pollute our environment, and are pure misery for the animals. And the easiest way to stop their ever-increasing presence is to adopt a plant-based diet, doing our best to purchase produce from sustainable, local farms.