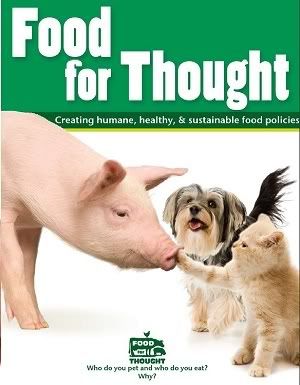 Animal Place's
Food for Thought
campaign asks animal shelters who rescue dogs and cats to create a menu policy that is consistent with their ethics.
The Food for Thought campaign asks
Who do you pet and who do you eat? Why?
Many dog and cat shelters also rescue farmed animals, from rabbits to cattle to chickens, a variety of animals may go through shelter doors and into new homes. While shelters may work hard to place these farmed animals, they may also serve beef or fried chicken at their shelter-sponsored events. This is an ethically inconsistent policy.
You can help:
1) Contact your humane society or SPCA and ask about their menu policy. If they do not have an animal friendly menu policy, order your free copy of the Food for Thought brochure from Animal Place. Email us at info@animalplace.org with Food for Thought in the subject line.
2) Let us know if your shelter does or does not have an animal friendly menu policy. We want to keep track of the shelters who advocate for all animals and those who need improvement.

You can also download the Food for Thought brochure at our website
here
.