My grandma loved baking bread; she'd fill her small apartment kitchen with the scents of fresh wheat rolls or sourdough loaves. I do not have crystal clear memories of her, but my nose remembers - I smell bread baking and I see strong wrinkled hands kneading dough, remember the heat of the kitchen and the taste of a hot, fresh roll. Grandma also loved to bake anything that required as little sugar as possible (she also only offered sugar-free hard candies which, to my 9-yr-old sugar-loving self, was quite tragic). Over the holidays, my mom brought out one of my grandma's favorite recipes and we easily veganized it. We hope you'll enjoy it too! -Marji Beach, Education Coordinator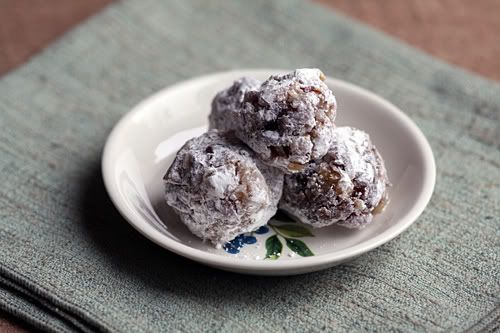 Ingredients:
Enough Ener-g egg replacer for 3 eggs
1/2 cup sugar
1 c chopped walnuts
1 c chopped dates
1 c flaked coconut
1 tsp. vanilla extract
1/4 tsp. almond extract
Directions:
Add to the egg replacer the sugar, walnuts, dates, coconut, vanilla extract, almond extract. Mix together.
Place mixture into casserole dish and bake at 350 for 25-30 minutes.
Let mixture cool. When mixture is cool, form into small balls and roll in powder sugar. Eat.
Photo by yours truly